Will Relying on Social Security Be The Most Expensive Retirement Mistake You Will Ever Make?

The Mechanics of Dividend Income Explained, and
How You Can Apply It RIGHT NOW to Your
Own Financial Situation.
Are you in your 30's, 40's, 50's… or even later? Then here is something you'd be wise to think about…
Are you relying upon Social Security to fund your retirement years? If so, the long and short of it is this:
You're going to find yourself in a world of hurt.
Make No Mistake:
Your Taxes Will Be Going Higher…
Benefits & "Loopholes" Will Be Slashed…
Social Security Will Be Raided Again and Again…
Here's the dirty little open secret about Social Security: There isn't a penny in the so-called trust fund. Every cent that comes into Social Security goes out to pay current government obligations and entitlements. The "trust fund" is replaced with an IOU from Uncle Sam.
Forgive me, but somehow a politician's promise to repay doesn't give me the warm-fuzzies right now.
What Are YOU Doing About YOUR Future Financial Plans?
Let me be blunt, if you are content letting someone else dictate your future and your retirement income, stop reading. This message and this book aren't for you.
The cold, hard truth is this… if you don't plan and take action now, you're going to be left holding a very small bag filled with increasingly worthless paper, instead of enjoying a secure flow of income – allowing you to relish the best years of your life.
That's what the Dividends Book is all about – making absolutely, dead-on certain you'll be one of those proactive individuals whose retirement assets will survive – and even thrive – in the coming tumultuous years ahead.
Pragmatic, Down to Earth, Actionable Information!
The rock-solid information in the Dividends Book won't coddle you with feel-good scenarios or pie-in-the-sky projections that simply won't exist – can't exist – in our present day economy. You'll uncover how things truly are, uncomfortable as that may be.
Make no mistake… The Dividends Book explains in concrete terms what you MUST be doing – right now – to positively ensure your wealth not only survives, but thrives in the years ahead.
Three Crucial Factors
When going through the Dividends Book, you're going to uncover three crucial factors about planning for your own retirement…
Factor One:

The "Commonly Accepted Wisdom" about your money – which is totally, absolutely WRONG! (What if everything you thought was true… wasn't! Like savings accounts and government bonds are worthwhile investments – FALSE!)

Factor Two:

What your bank, your accountant, even your current investment advisors aren't telling you about handling your money & investments. (They either don't know, or they just aren't talking!)

Factor Three:

Understanding the crucial types of investment incomes you must know, and most importantly how to identify and capture those investment dollars so they land in your pocket, and not unnecessarily and unknowingly transferred away to some overpaid advisor or broker. (And yes, I'm not merely talking tens, but more often than not, hundreds of thousands of dollars over the course of your working life!)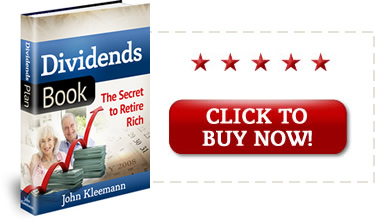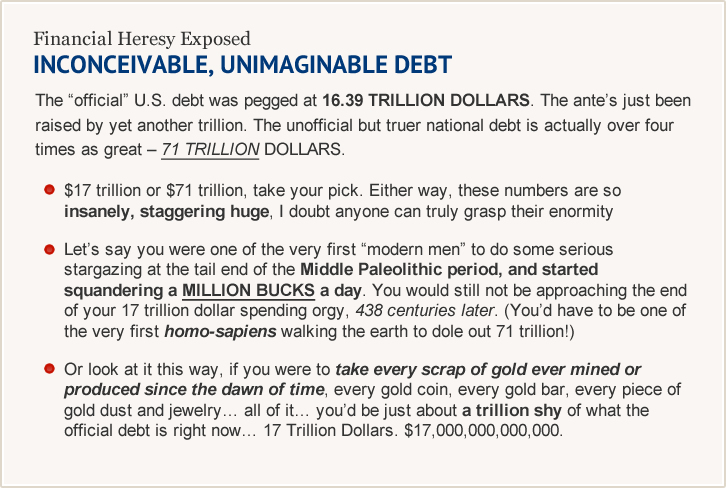 Remember, the government is looking for all the cash it can lay its hands on, but it only has three ways of filling its coffers…
Tax
Confiscate
Print & Inflate
We're seeing all three of these going into hyper-drive as I write.
192 Pages of No-Nonsense Advice, a Field Guide for Financial Success – Let's Take a Peek Inside…
Do you know the Rule of 72? You should, as it determines how quickly (or not!) your money is going to grow.
How about DRIPS? It's considered by many to be one the MOST POWERFUL METHODS for re-investing your money. Dividends Book shows you how it should be done – and done right.
ROTH IRA's, Individual IRA's, SEP IRA's – Do you know the differences between these three popular retirement plans, and the pros & cons of each? You will, after reading this book!
Standard & Poor's 500 Index – What is it, and how will it help you with your retirement planning?
Common Stocks vs. Preferred Stocks – How will your dividend incomes be affected by holding one over another?
REITs – Equity REITs, Mortgage REITs, Hybrid REITs. These are some of the least known and most overlooked investment options. My Dad's Retirement Plan spells out exactly what they are, and how to SUCCESSFULLY leverage them in your retirement portfolio.
Closed-End vs. Open-End Funds – What's the difference between them, and which one should you consider when investing your money?
MLPs – Master Limited Partnerships. The simple rule to remember when working with MLPs, why an MLP can be so advantageous, and how the money received from MLPs can mean large tax breaks for you and your retirement!
Ex-Dividend Date (or reinvestment date). How is it determined, and why a single day can make a substantial difference in the dividends you'll receive.
Monthly Dividend & Quarterly Dividend Stocks – How to find them, and how to use these investment opportunities for smoothing out and supporting your monthly income during retirement.
Four Key Dividend Dates to Remember. There are four important dates to consider when dealing with dividends, and yes – The Dividends Book lays out what they are and why you should care.
Market Sectors. Do you know what a "Defensive" stock is? (It has nothing to do with the military!) How about cyclical stocks? What sectors make up each? When is one better than the other? How do you choose between the many and various sectors? The Dividends Book has you covered here as well!
Nine Rules For Prosperous Investing. Follow these rules when investing in the market, and your emotions will take backseat to financial reality – saving you a busload of headaches and a ton of money in the process.
Risk, Remorse and Reward. Yes, all investments have some risk. Keep your money in a bank, and there are still risks – not the least being that your money will actually SHRINK in size over time. (That old dragon named Inflation at work.) We'll discuss the four actual types of market risk, and how you can determine which level is best for you and your unique circumstances.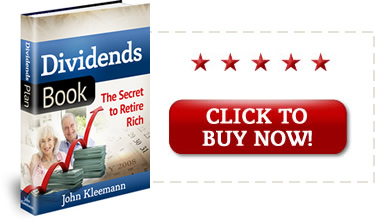 The Dividends Book in Action!
Setting Goals – This will be the backbone of your individual retirement plan. Remember, you can't get to where you want to be if you don't know how to get there!
How Much to Invest? Setting SPECIFIC AMOUNTS is the key!
Choosing Your Strategies – Aggressive, High Risk or Conservative, Low Risk? What suits your style?
What's Your Risk Level? The Seven Factors influencing your overall risk tolerance explained.
The Ten Commandments! Specific, actionable rules to follow for planning your Dividend portfolio – and cashing in when the time is ripe!
Sticking With It – The Six Rules of Engagement to remember!
How to Choose a Dividend Stock. Actually, you DON'T have to be an investment guru for picking consistent winners. Follow the detailed advice in the Dividends Book, and you'll be nailing down those lucrative dividend payouts time after time.
The World According to GARP & CAN SLIM. Dividends Book takes your investing strategy to the next level by revealing the ins and outs of these two powerful hybrid methods.
DOGS of the DOW. Sounds almost like something out of Shakespeare… (Cry havoc and let slip the Dogs of the Dow!) But contrary to what you may think, these Dogs have a healthy bark when it comes to providing high dividend yields. But be careful, because you have to have your eye on them at all times. We'll show you how to best avoid their bite.
Opening Up Your Own Investment Accounts. Sure, you can use a broker – and pay outrageous broker fees. Or you can follow the advice in Dividends Book and take charge of your own affairs. We'll show you how truly simple and easy it is!
IT'S TIME TO ACT
Right at the very beginning of this message we talked about how relying on Social Security for your retirement is like relying on a derailed train to make it into the station on time. Too little, too late… if it's even there at all when your time comes to cash in on the benefits you've been forced to pay into.
The economy isn't just going to magically recover overnight. Like it or not, we're in the throes of what very well could be a deep and lasting recession.
The smart investors will be using this situation to their personal advantage, turning calamity into opportunity for a more secure, well-rounded retirement.
Dividends Book
Special Early-Bird Pricing
This investment you'll be making for your retirement goals is one any rational, forward thinking man or woman can easily afford.
The publisher wanted to charge $24.97 for the Dividends Book as suggested retail, but I wanted to make it very affordable for everyone so the price is $16.97!
192 pages of crucial, must-have information – the facts and figures any intelligent investor should – make that must – know before starting out in the world of retirement investing.
But to make this an even easier decision on your part, be among the first 50 who order, and the price is $14.92 That is $2.05 off a 12% savings.
But this offer is ONLY good if you are in this "early-bird" group. Be number 51, and sorry – the full price will apply.
This book is great for people of all ages to help them prepare for retirement"
John D.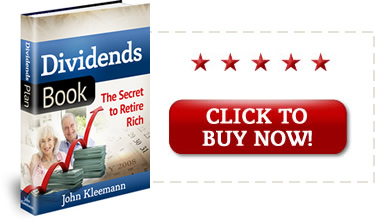 My "No-Buyer's Remorse"
Guarantee of Total Satisfaction
Listen… I believe every word written in Dividends Book. Within its pages are the exact methods and investment tools my Dad has used to now enjoy a very, very comfortable retirement with his bride of over 62 years. My Dad and Mom can spend their retirement the way they want – and not count the pennies.
And yes, it's the exact same method my wife and I are using to make certain our retirement is every bit as peaceful and secure as my parent's.
Get this quality Book today. Put it through the only test that counts – how it will impact your life and your financial goals. In fact, try it for TWO FULL MONTHS – 60 DAYS.
If you feel it hasn't lived up to your expectations, if the advice, insights and plans don't meet your individual requirements – just let me know during this time.
I'll cheerfully and quickly refund your purchase price. No hassles. No problems. No kidding. That's how certain I am you'll find Dividends Book an invaluable tool for securing the financial future of you and your family.
Fair enough?
And just to be clear, please rest assured I won't be coming back to you requesting more money for hyped-up "gold level" insider tips or any other of the less-than- honest ploys so commonly used today.
"Excellent plan with practical steps to secure my retirement"
Sue D.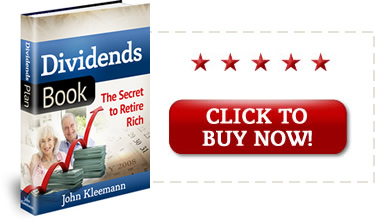 Order "Dividends Book" Right Now!
You can sit on the sidelines and watch events unfold, or you can seriously start working towards a rock-solid retirement goal, and come out being one-up over the rest of the frankly clueless population.
It's all up to you. By taking advantage of this offer and these strategies, I assure you – you'll soon be looking back on today and saying to yourself:
"This was one of the best decisions I ever made."
"Great plan that I can follow on my own."
Bob R.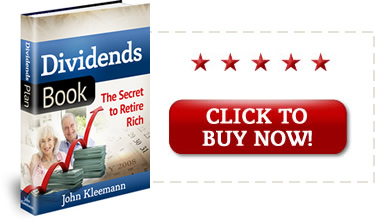 With sincerest thanks,
John Kleeman
P.S. This is something I've seen time and time again. Many people will get an invitation like the one you're reading about right here, agree with everything that's said… and still do nothing.
They're the small dreamers, the wannabe's. The "almost made it" crowd. Always hoping for their ship to come in – but too timid and fearful to actually book passage for themselves when it does.
Everything you need for planning your retirement is now within your grasp. Frankly, you're not going to find a better, stronger and more sincere offer on the web – so act now!
Thanks again…
Yes! I Want A Better Life For Myself And My Family!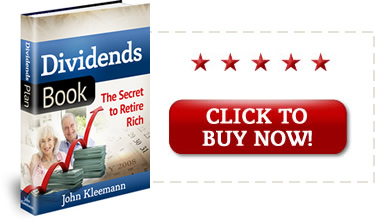 PRIVACY: We never sell, give, trade or barter your personal information with anyone else, either private or corporate. If you ever wish us to delete your information, or opt out of receiving our communications, please let us know by email. We will of course do as you request.